Turtle Soup
Category: Gumbos, Soups, and Bisques
Serving Size: 16 appetizer servings or 8 main-dish servings
Turtle Soup
As featured in Brennan's New Orleans Cookbook !
1
Instructions
Over medium-high heat, melt the butter in a heavy 7-quart saucepan.
Add the turtle meat and garlic.
Cook until the meat is no longer pink, about five minutes, stirring occasionally.
Stir in the onions, celery, sweet peppers, kosher salt, and pepper.
Cook until the vegetables start to become translucent, about 10 minutes.
Add the tomatoes and cook about five minutes, stirring often so the bottom of the pan does not scorch.
Reduce the heat to medium.
Dust the vegetables with the flour and cook five minutes, stirring constantly and scraping the pan bottom clean so the flour does not burn.
Slowly add the stock, stirring and scraping the pan bottom constantly to prevent dough balls from forming in the soup.
Stir in the worcestershire, pepper sauce, parsley and thyme.
Simmer 30 minutes.
Add the eggs, spinach, lemon zest, lemon juice and sherry.
Continue simmering 10 minutes more.
Ingredients
4 tablespoons unsalted butter

1 1/2 pounds turtle meat, trimmed of all sinew and cut into 1/4-inch cubes

8 cloves garlicminced

2 medium-size onions, chopped fine

4 stalks celery, chopped fine

2 medium-size green peppers, chopped fine

1 1/2 tablespoons kosher salt, plus to taste

1 teaspoon freshly ground black pepper

2 medium-size Creole tomatoes, seeded and chopped fine

3/4 cup all-purpose flour

3 quarts beef stock

1 cup worcestershire sauce

2 tablespoons Crystal brand pepper sauce, or other relatively mild pepper sauce

2 tablespoons finely chopped Italian (flat-leaf) parsley leaves

2 tablespoons finely chopped fresh thyme leaves

5 large eggs, hard-boiled, chopped fine

6 ounces fresh spinach, washed, stemmed and leaves sliced fine

zest from 3 lemons, chopped fine

1/3 cup fresh lemon juice

1/2 cup good-quality sherry
Brennan's Gift Cards
Purchase Gift Cards
Cookbook Recipe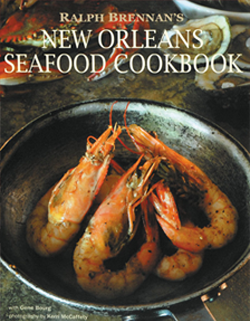 Brennan's New Orleans Cookbook